Children's Conference 2019
You matter!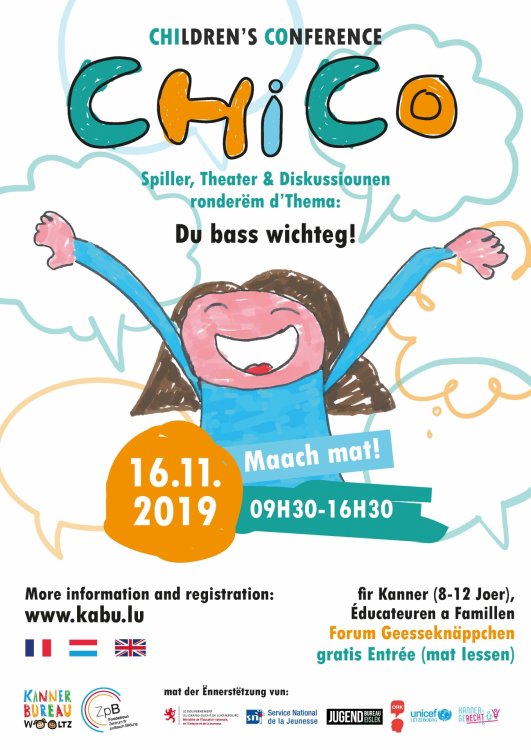 In the context of the 30th anniversary of the UN Conventon of the Rights of the Child, the Kannerbureau Wooltz and Zentrum fir politesch Bildung as well as their partners invite you to the 1st children's conference in Luxembourg!
The main focus lies on children and their rights - mainly the right of expression and co-determination. Starting with a playful introduction in the morning, children and adults alike are invited to take part in a creative and open exchange during the afternoon. This day allows children and adults to discover what participation means for them and to together find answers to questions such as "Why am I important?" and "Where am I heard?".
Educators from day-care center (Maison Relais) are welcome to participate with a group of children. Participating in this event is recognized as training (formation continue) (Validation no.2019_07_ANB_060).
The event will be held in Luxembourgish. Translation in English and French will be available.
Programme Chico 2019
| TIME | Programme |
| --- | --- |
| 9:30 | Check-in |
| 10:00 | Introduction |
| 10:30 | Warm up : youngsters perfom (topic-relatec sketches) |
| 10:45 | Warm up: World café (in small groups) |
| 11:35 | Closing of the morning session (all together) |
| 12:00 | Lunch |
| 13:00 | Opening of the afternoon session with an energizer |
| 13:15 | Introduction to the Open Space |
| 14:00 | Open Space |
| 15:30 | Closing of the afternoon session (all together) |
| 16:00 | Check-out |
World Café
The  World Café  enables a dialogue in a relaxed context between people who do not know each other well. People sit in a circle in small groups and discuss a question or topic that has been given to them. After a short pre-determined time people switch places and a new question or topic is given so that new discussions are held in new groups.
During ChiCo 2019 the questions discussed in the world café will refer to the sketches. A host will prepare questions all around participation to facilitate the small group discussions. There will also be material available to help make the exchange more creative.
Open Space
The open space also encourages exchange, but creates significantly more room for the participants to be proactive and bring in their own interests. The host prepares a sheet with an empty time grid showing how many workshops can be held. Based on this empty timesheet participants can propose workshops or topics which they would like to discuss. Participants can participate actively or passively in the proposed workshops and are allowed to switch workshops at any moment. There will also be material available to support creative processes.
Data privacy
All information collected via this form will be used only by our team to organise ChiCo 2019. It will not be shared with a third party and will be deleted after 16th of November 2019.
During ChiCo 2019 pictures and videos will be made to document the project. This material may be used for public relation purposes. After registration, educators from day-care centers will receive a form via e-mail which parents can fill in to give their consent or not. Participants registered without a day-care center can fill in their forms on site.
Contact
+ 352 95 92 05 97
More information on children's rights can be found HERE.
with the help of